Clark Internet
WWW Services since 1994
SPAM Reduction Techniques
Don't post your address on websites. Make use of indirect contact methods.
Put your mailing list into the BCC field of your email program, avoid putting lists into TO or CC fields.
We are not a general service ISP. We support email in general only for clients using our Sitemaker and Journalmaker™ systems. We do not generally support sending. You should use the SMTP or other sending server specified by your regular ISP.
Email is best created, sent, and received, interestingly enough, by an email program. Typical local setups for client programs are summarized below.
Web Mail
is a simple service that lets you read your mail in a Web browser. Storage space is strictly limited; you must use your own mail client to store your email history.
SPAM - Sending unsolicited bulk mail ("spam") through any mail server with a return address associated with a Clark IP server can be grounds for immediate termination of your service or for other action without warning.
Email: IMAP vs. POP
IMAP (Internet Message Access Protocol) mail is a modern messaging technology that can maintain your mail simultaneously on your own computer and/or on a remote host system called "the IMAP server." You have the option to keep copies in both places, however your provider may limit the amount of mail that can be stored on the server. The solution is to transfer your older mail to folders stored locally on your own computer, reserving the hosted storage for active messaging. Your local software is called an "IMAP client."

POP (Post Office Protocol) mail refers to older email software that may NOT maintain duplicate copies of your mail. When sending, your POP client logs into the shared computer (the POP server) and transfers received mail from your account to your computer. When you send an email message, your POP client transfers it to the host for transmission on the Internet. The local copy is usually the only copy.`

IMAP client programs typically support a richer set of features, such as document attachment, automatic document encoding and decoding, user lookup, internal address books, font selection, signature files, and multiple mail management options. The clear trend is toward replacement of POP by IMAP. Users should contact customer service regarding the POP/IMAP choice.

Please consult your service representative regarding which protocol is right for you.
Setup for Mac
As usual it's fairly self-explanatory. Set up your browser to read mail from POP server mail(N).clark-ip.com as indicated in your setup instructions. Your user id is your full email address, not just the box name. An example appears below for a hypothetical user, who has a guest domain at Clark IP and is assigned to mail.clarkip.com. Enjoy!
Select your Account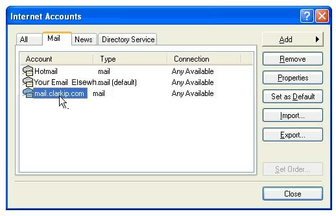 navigate through the menus Tools:Options:Accounts sequence to list your various Internet accounts

choose your existing mail account, or Add to create a new mail account

click Properties to add the name or descriptor for this account.

The incoming mail server name is
mail.clarkip.com
. You can type something else here to recognize the account, but we recommend including the server name in the account name. (We're not trying to cover all the myriad exciting ways you could do this.)
Adjust Properties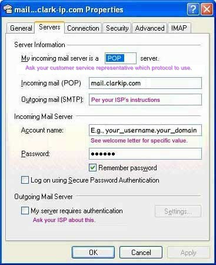 set the server type as instructed by a service representative.
incoming server name: mail.clarkip.com unless your service representative has given you a different server name
outgoing (SMTP) server name: as designated by your ISP unless you have been otherwise instructed by your service representative.
Incoming Mail Server

account name is your entire email address, e.g., your_name@your_domain.com
password is per your own choice

Outgoing Mail Server

if mail.clarkip.com: check the box for password authentication; ask your representative for details
or per your ISP's instructions

click OK to save the changes
Unix Users: Unix mail service is outside the scope of this document. Of course, if you can't already set up a mailbox, you've probably chosen the wrong operating system. We trust you will enjoy your use of our server. Thanks for choosing Clark Internet!